I am so excited, I bought the first big present for Zoe for Christmas today. So far I have socked away:
Tangled DVD
- I got this thru Disney Movie Rewards, earning points toward other gifts & got a half price movie in addition to buying this one.
Bead Maze
- This was 100% free! Cashed in my Huggies Rewards for this little darling she's sure to enjoy!
Also, I had $12.75 credit on my Amazon account from cashing in my Swagbucks for Amazon giftcards. I had already purchased a Disney Pixar Scene It game for Elliott and now to get something for the little lady. Behold the glory of the Fairy Toadstool Cottage...do I hear collective awwws?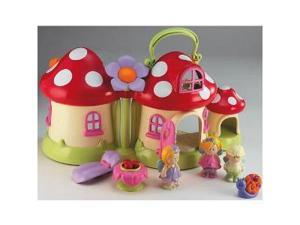 Zoe has been playing with Elliott's BatCastle a lot lately, so I knew a dollhouse was the way to go... The pieces are just her size, the toadstool theme totally goes with her darling little room and honestly, it reminds me of the shows of my youth.
Hopefully before Christmas gets here I'll have a few more Swagbucks to use and get the little fairy car to go along with it.
So this just goes to show any doubters, collecting those codes, using Swagbucks instead of google to search and taking your time hunting down the best deal can really pay off. And come December 25th I'll have one happy little girl and one sweet dollhouse!